The Trinity River Restoration Program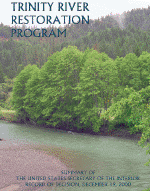 Congress authorized the Trinity River Fish and Wildlife Management Program in 1984, which is now more widely known as the Trinity River Restoration Program (TRRP), to compensate for the fish and wildlife impacts caused by the development and operation of the Trinity River Division of the Central Valley Project (CVP). The CVP is a federally-constructed water resource system which stretches from northwestern California to the southern San Joaquin Valley. Congress has placed responsibility for the TRRP on the U. S. Secretary of the Interior, who in turn, has assigned day-to-day responsibility to the U. S. Bureau of Reclamation, the CVP's operating agency. The TRRP has a policy steering committee, the Trinity Task Force, which is comprised of a diverse group of agencies, Tribes, County government representatives and other stakeholders.
In October 2000, U.S. Fish and Wildlife Service, Bureau of Reclamation and Hoopa Valley Tribe issued the Trinity River Mainstem Fishery Restoration Final Environmental Impact Statement/Report, which was the environmental justification to proceed with the long evolving TRRP strategy. A well illustrated brochure explains the EIS/EIR (U.S. BOR, 2002). The Final EIS/EIR has not yet taken effect because of legal challenges. The TRRP has sponsored the the updating KRIS Versions 2.0 and 3.0.
See Brochure (4.2 Mb)