KRIS Noyo is dedicated to the memory of Mike Maahs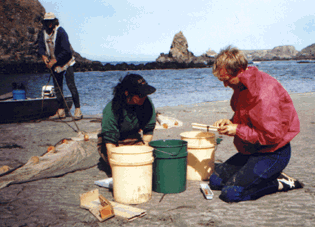 The Institute for Fisheries Resources wishes to honor the memory of Michael Maahs, a Fort Bragg fisherman and scientist, who recently died at sea. Mike not only made his living fishing but also helped conduct studies of Mendocino watersheds, fisheries and estuaries. His dedication to the advancement of knowledge of fisheries and watersheds is in concert with the IFR mission and makes this memoriam particularly fitting. The text below is excerpted from a Mendocino Beacon Thursday, March 16, 2000 article.
Michael Maahs earned wide respect for his commitment to both fishermen and the environment. Rixanne Wehren photo.
Sea claims Noyo fisherman, Michael Maahs
Beacon Staff
The North Coast fishing community is mourning the loss of Michael Maahs who died while crab fishing with his father Saturday. The 44-year-old son of William "Sonny" and Doris Maahs, Michael started fishing when he was 11. Over the years, they've carried wide respect for their work on behalf of the salmon fishery.....
Michael was born in Fort Bragg on April 7, 1995. After graduating from Fort Bragg High School in 1973, he attended Humboldt State where he earned a bachelor of science in fisheries biology in 1980.
In addition to commercial fishing, Michael was very active with the Mendocino Coast Resource Conservation District as an advisor on stream restoration projects and on a recently completed Garcia River study. He was also the new chairman of the Salmon Restoration Association of California, which his father helped found 28 years ago.
Just two weeks ago, the Maahs family attended the 28th Annual Legislative Fisheries Forum in Sacramento where Michael's father was honored for his half-century of work on behalf of the salmon fishery, and his dedication to his family and fellow fishing men and women. He was presented with a resolution by Assemblywoman Virginia Strom-Martin, state Sen. Wes Chesbro, and the members of the Joint Committee on Fisheries and Aquaculture.
"Mike had helped put they resolution together, providing much of the historic information about his dad," said Zeke Grader, director of the Pacific Coast Federation of Fisherman's Associations. " I mention this to show just how much the Maahs family has meant to those of us in the fisheries. Mike was not only carrying on his father's legacy but creating one of his own. His loss Saturday was very tragic. "
In his free time, Michael also enjoyed bottle digging, gardening and the outdoors. He is survived by his children, Cyrus and Stephanie, his father and mother, Doris and Sonny Maahs of Fort Bragg; his sisters, Julie Maahs-Rhoads of Sacramento and Gayle Vaughn of Fort Bragg; his eternal friend, Shannon Nadeau of Fort Bragg, and by the mother of his children, Joan Maahs of Fort Bragg......
Memorial contributions are suggested to the Education Fund for the Maahs children, Account 24-379226, Savings Bank of Mendocino, 490 S. Franklin St., Fort Bragg 95437.