Big River History: Introduction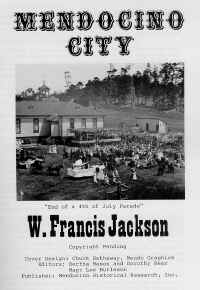 The historical information in these pages consists of excerpts from Mendocino City, A daily Journal  1852-1938 by W. Francis Jackson. This book is in print and available from book sellers in Mendocino. The excerpts were chosen to portray life, especially fishing in the area and logging in the Big River, during the 1800s and early 1900s. Most of the photographs on these pages are from the Mendocino Historical Society and the Held Poage Memorial Home and Research Library on North State Street in Ukiah. These beautiful photos were printed by Robert Lee and scanned for use here with his permission from his collection. Other photographic sources are noted. No other use or publication of these images is allowed without express written permission from the source.
W. Francis Jackson's Big River Was Dammed chronicles splash damming, the most profound and lasting impact to fish habitat in the watershed. (See excerpts). This book is out of print but was published by FMMC Books, P.O. Box 232, Mendocino, CA 95460.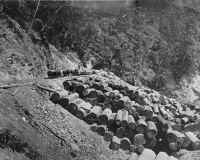 People / Pioneers
Infrastructure - railroads, boats, bridges, etc.
Events - floods, storms, shipwrecks, etc
Logging / Mills - operations and events at mills, logging activities
Also see, Big River Was Dammed (excerpts) and Fish stories from the past
Photo: "Awaiting a freshet." Logs decked at Kelly Gulch near Ramone Creek on Big River waiting for rains to fill splash dams and increase river flows. Note bull team with a skid of logs. Fred Perkins logging operation. Not later than 1880's.