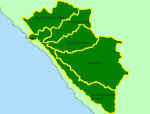 Select KRIS topics by area or topic category to access charts, images, and data tables.
Bibliographic Resources concerning the Gualala River.
Hypotheses advance understanding of limiting factors in the Gualala River.
The KRIS Gualala project was funded by the California Department of Forestry and Fire Protection (CDF) and the National Fish and Wildlife Foundation.
KRIS Gualala Sponsors and Cooperators
This KRIS version, which was built to support the North Coast Watershed Assessment Program, provides agencies, private land owners and citizens with data relevant to fisheries and water quality in a useful form for adaptive management.
Conclusions and data presented in KRIS Gualala do not necessarily represent the endorsement of NCWAP State agencies, including the California Geological Survey and the California Department of Fish and Game.